Lou's Jewelry & Pawn was recently featured in an article on Springfield, PA's Patch page.  Check out the article below.
Lou's Jewelry & Pawn in Upper Darby Celebrates 100 Years Nov. 13
Public is Invited to Open House Event with Food, Prizes, Charitable Donation and a Mayoral Proclamation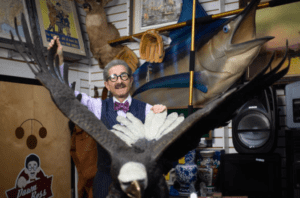 It's rare for any retail shop to reach a hundred years in business. It's rarer still for its owner to be recognized on the street. So it's only appropriate that a man and shop that deal in rarities check both those boxes. Lou's Jewelry & Pawn, founded by Louis Myerson in October 1921, remains a hub for buying, selling and loans today in the Upper Darby location it's occupied since 1984.
On Nov. 13, 2021, Lou's will host a 100th anniversary celebration and open house at its location at 29 South 69th Street in Upper Darby, just a few doors down from the Tower Theater. The event, from noon-2 p.m., will include refreshments, DJ, prizes, a donation to Gift of Life, and a proclamation by Mayor Barbarann Keffer in honor of the 100-year milestone. The public is invited.
Lou's 2nd generation proprietor, Stanton Myerson, instantly recognizable for his bushy moustache, round-rimmed glasses and garish bow ties, is frequently greeted with shouts of "Hey, Pawn Boss!" when he ventures out, largely because of his quirky, often cheeky TV commercials (yes, that's the Vince Lombardi trophy being pawned by an unnamed Eagles coach in one of them!). A trained gemologist and certifiable nut for collecting, Myerson started working in his father's shop in 1954 at age 5, then upon taking the reigns moved it to the current site on South 69th Street. More recently, he purchased the chair specially made for Pope Francis' 2015 visit, and loans it out regularly to Catholic organizations.
"It's been a terrific ride, being part of the fabric of Upper Darby for the past 37 years. And it's been rewarding to see pawn stores gain greater exposure and acceptance as a result of Pawn Stars and similar depictions on television," said Myerson, who serves on the board of Gift of Life and several other charitable organizations. "Pawn isn't just an option for the financially desperate. Everyone's a potential customer as people have become more savvy about the things they've owned, inherited or simply acquired in their travels. Some things are rich in history, many things have little value, and some have great sentimental value for their owners."
Like just about all pawn shops, Lou's buys, sells, and loans money, with pawned merchandise held as collateral. Interest rates are very reasonable and comply with limits set by the State of Pennsylvania. Loan terms can be extended up to four months. If the loan isn't repaid, Lou's will place the item for sale, usually for a profit. Among the item categories customers can use to secure their loans are antiques, jewelry, cameras, musical instruments, electronics, tools, toys, mobile electronic devices, video game systems, stamps, scientific instruments, and sports memorabilia and military collectibles.
Louis Myerson started working in the pawnbroker business in 1914 in Philadelphia. In 1919, he opened his first location at 5th and Girard, followed by a move to a new location in Chester, Pa. in 1921. Stanton Myerson opened the second store in Upper Darby in 1984 and absorbed the Chester location in 2007. The shop currently has 10 employees, including Charlene Powery of Wynwood, Pa., who serves as general manager and has been with Myerson since 1988.
Lou's is one of the country's oldest family-owned Pawn Shops. As one might imagine, Myerson has dealt in all kinds of oddities during those years. His favorites? A seven-foot tall cigar store Indian, a 600-pound bronze eagle with six-foot wingspan, a real human skeleton, and 25 bushels of live crabs he acquired after the truck transporting them broke down near his store.
"I love this business, I just love it," said Myerson, who is always happy to chat with customers about the items they deposit on his counter. "I love the people I meet every day, I love finding interesting things, and I love learning about them. And no two days are alike."
All are invited to join the 100th anniversary celebration, Nov. 13, 2021, noon-2 p.m., at Lou's Jewelry & Pawn, 29 S.69th Street, Upper Darby, Pa.